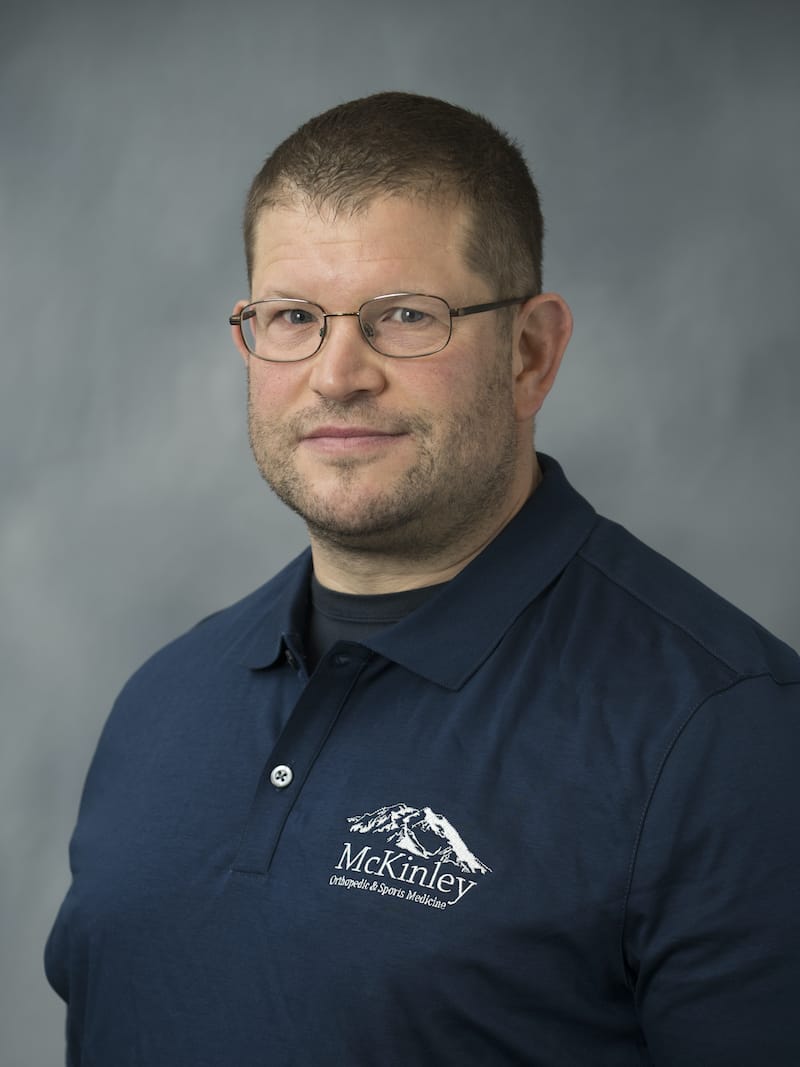 Our Providers
Dr. Gary Molk
Medical School
Kansas City University of Medical and Biosciences
Undergraduate
Colorado State Universityof Science in Human Anatomy and Neurobiology
Residency
Henry Ford Bicounty Hospital/Michigan State University Orthopedic Surgery
Fellowship
University of New Mexico Hospital
Board Certification
American Board of Orthopedic Surgery
Medical Society Memberships
American Osteopathic Board of Orthopedic Surgery
Procedures
Operative:
Total Hip Replacements (Anterior and Posterior Approach)
Total Knee Replacements, MRI Guided, Custom Guided
Revision knee and hip replacement
Surgical treatments for fractures
Fracture nonunion or malunion repair/revision fixation
Complex orthopedic trauma/fracture repair
Tendon rupture/repair
Nonoperative:
Fracture Management
Arthritis treatment
Joint, Intramuscular and Peripheral Nerve Injections
Treatment of Sprains, strains
Tendon rupture/repair
Bio
Dr. Gary Molk is board certified in orthopedic surgery, and fellowship trained in orthopedic trauma.

Dr. Molk was born and raised in Colorado. He received his bachelors of science and masters of Science in Human Anatomy and Neurobiology degrees at Colorado State University, and attended medical school at Kansas City University of Medical and Biosciences. He then completed orthopedic surgery residency in Detroit Michigan, through Henry Ford Bicounty Hospital/Michigan State University statewide campus. Dr. Molk discovered a true passion for the challenges of treating high energy orthopedic trauma, and went on to complete an orthopedic trauma fellowship through the University of New Mexico Hospital in Albuquerque, NM.

During his fellowship, Dr. Molk received additional training in complex orthopedic trauma/fracture repair, fracture revision fixations and revision of total joint replacements. After completing his specialty trauma training, he worked in a hospital based practice in Wyoming, honing his trauma skills amongst the large animal encounters and yearly Sturgis motorcycle migrations.

After working for several years in Wyoming, Dr. Molk followed his love of all things outdoors, and relocated to Alaska before he was "too old" to enjoy the opportunities this state has to offer. Dr. Molk has served the Fairbanks community since 2016 and became a member of the McKinley Orthopedics, Sports Medicine and Spine family in 2019. Dr. Molk operates at Fairbanks Memorial Hospital and Fairbanks Surgery Center, and provides nonsurgical treatments and procedures at our clinic.

Dr. Molk has special interest in caring for patients who have sustained high energy moose and motor vehicle related orthopedic trauma. He enjoys pelvic and acetabular fracture repair, performing hip and knee replacements, complex joint reconstructions, and revision surgeries, as well as deformity and fracture nonunion and malunion corrections.

When he is not pursuing the next fishing or hunting opportunity, Dr. Molk enjoys time with his dogs and reindeer. He is a true outdoorsman and looks forward to hearing your Alaskan adventure stories while caring for your orthopedic needs.